Highlight
Toys, fashion accessories, stationery items... are just some of AJ AGUIAR highlights!
Connect with us
Subscribe our newsletter and receive the main news, special offers, promotions and other pertinent information. Follow us through social networks.
BLOG
Where the main news, events and participation in relevant international events and fairs. Stay tuned and do not miss the latest AJ Aguiar.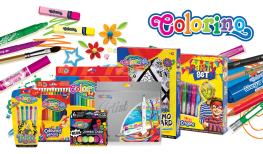 Colorino, a hint of colour in children's daily lives
Specially designed for preschoolers and elementary schoolers, Colorino has revolutionized the world of drawing and painting solutions.